Athlete

Athlete Development Matrix
An Athlete Development Matrix (ADM) is a matrix of key skills or building blocks that a player or athlete must develop through her participation in sport at the local and high performance levels.
---
Essentials
This document provides a snapshot of the key building blocks for the developing player and high performance athlete. Using Canada's Sport for Life Long-Term Athlete Development (LTAD) framework, their generic Athlete Development Matrix (ADM) and acquired expertise from Canada's Ringette community, these Essentials were compiled. To help coaches and administrators build and test the effectiveness of programs, a more detailed and comprehensive version of Ringette Canada's Athlete Development Matrix will soon be available on this page.
The Athlete Development Matrix is split into 4 components: Psychological, Life Skills, Technical/Tactical/Strategic and Physical. Further to that, Ringette Canada has added a fifth component, Ethical Literacy, a True Sport initiative.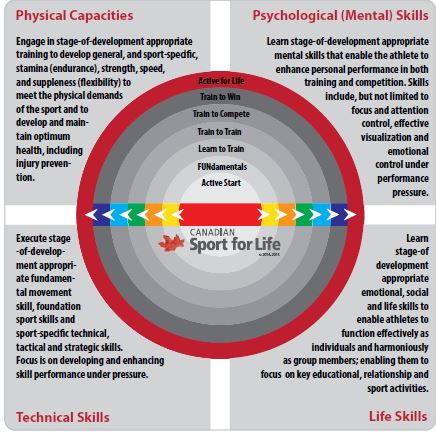 The Athlete Development Matrix Essentials document can be viewed and downloaded here.
To access the Essential skills by stage, click on the desired link below.
Train to Train – I am on the Team
Train to Compete – I am a Competitor
Learn and Train to Win – I am Exceeding my Limits/I am a Champion